In 1998, I read a story in a gay porn magazine where a man picks up partners in a gay bar by offering them three hours of cock massage. The cock massage strokes he offers were learned from my video Fire on the Mountain – Male Genital Massage. This story was hilarious! I contacted Dominic Santi to get permission to share his story with people who might be interested in my erotic massage video. Below is an excerpt from that story. You can learn the same cock massage strokes Dominic describes here.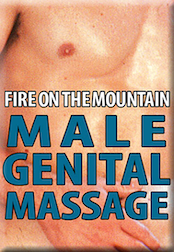 ~~~~~~~~~~~~~~~~~~~~~~~~~~~~~~~~~~~~~~~~~~~~~~~~~~~~~~~~~~~~
Tantric Sex by Dominic Santi
His hands started massaging me, and I didn't have the strength to talk anymore. Jack turned my whole body into warm, sweet butter. He massaged my eyebrows and my cheekbones, kneaded the oil deep into my scalp until my skin felt like it was reaching towards him. The music had changed to something that sounded like the ocean ebbing and flowing on a quiet night. I love the sound of the water. Pretty soon, it was hard to keep my eyes open. I quit trying and let them close.
"Breathe with me," he said. I did, following his directions — using my strength for the inhale and then letting the air flow back out of me on its own — until I felt like I was floating. After that, Jack didn't say anything for a long time. He worked his way down my torso. His hands talked to me, telling me how much he enjoyed my body. It felt so good that at first I didn't realize I'd gone completely soft.
Until Jack said, "This next part will work best if you don't let yourself get all the way hard. Lie back and enjoy."
I looked down, and sure enough, my "seven inches when it's stiff" dick was cuddled up against my balls like a fat caterpillar taking a nap. Jack lifted it between his thumb and forefinger, pressing it firmly between them.
"This will wake you up," he said.
It sure did. The blood rushed into my dick. Then he started massaging my shaft like it was the hand on a clock. Midnight. He pointed me upwards and stroked the underside of my shaft. Long, full brushes all up the length of his palm. Damn, it felt good. Two. Three. He turned my dick towards the side and stroked the surface facing his hand. I was getting hard again, fast. By six, I was moaning, bent downwards, harder than was "optimal," my slit pointing towards my toes. When he was done massaging the top of my shaft, he wrapped his hand around me and milked me like a cow's teat.
I groaned. I was almost too hard to bend that way. But Jack didn't stop. And he didn't do any stroke long enough to make me come. Pretty soon I shivered just at the sound of the oil bottle squeezing. The air would fill with a puff of coconut smell, then I'd feel the warm oil sliding off his newly slicked hands as he changed strokes.
When he pulled my skin taut, holding it at the base of my shaft, then jacking me lightly with his other hand, I almost came on the spot. I gasped, arching up as I felt my nuts starting to churn. "Not yet," Jack said firmly, squeezing hard, right at the base of my cock.
I groaned again, my body protesting loudly as it crawled back from the edge. I opened my eyes to see Jack laughing softly at me.
"We're no where near three hours." He leaned over and licked the inside of my thigh. "This is just a taste."
The sound I made, somewhere between a moan and a cry, just made him laugh. Then his hands were all over my thighs, and my belly, and my chest. When I got my breathing back under control, he reached between my legs again. One o'clock. Six. Eleven. He rubbed the palm of his hand across the cap of my glans, smearing the precome leaking from my piss slit into the coconut oil he was kneading into my skin. He played my nipples and nuts, tickling and teasing and pinching, until my dick jumped and oozed precome at the lightest feather touch of his fingertips. He woke up parts of my genitals I didn't know I had. And believe me, I thought I'd explored every possible inch of that area. I was wrong.
My muscles were quivering like Jell-O when Jack rolled me over onto my side. He lifted my top leg up, bending it over until my knee rested on the bed. I groaned so loudly I would have been really embarrassed if I hadn't been so completely relaxed. Except for my cock, which was rebelliously ignoring Jack's "don't get too hard" directions. I moaned even louder as the side of his hand slid down the crack of my ass.